Morning-After Phase: Thoughts On The 2015 Grammys
The most uneventful Grammys in recent memory climaxed with an utterly anticlimactic Album Of The Year winner. Rarely has such a shocking upset felt so bereft of drama, and it could not have been more fitting. The triumph of Beck's Morning Phase wasn't even a head-scratcher of the Steely-Dan-in-2001 or Herbie-Hancock-in-2008 variety so much as the most pronounced shrug in a night full of ¯\_(?)_/¯. There's not anything wrong with Morning Phase, really. It's the epitome of nice and easy, a pleasant morning sunbeam of a record, an expertly crafted soundtrack for rubbing the sand out of the corner of your eye. We at Stereogum praised it in our review and liked it enough to put it in our mid-2014 albums roundup. But when it came time to honor 2014's absolute best at year's end, we left it off the list. I doubt the artist himself would have protested; when the British music mag Mojo put Morning Phase at the top of its 2014 albums list last November, Beck tweeted "Morning Phase: #1 of 2014? Thanks @MOJOmagazine" as if he had inherited a small fortune from some previously unknown uncle. He seemed grateful but confused, the same way he looked while accepting the Grammy tonight, even beckoning Kanye West when West feigned another stage crash to defend Beyoncé's honor. Beck is nothing if not a man of exquisite taste, and like most people with taste, he knew who deserved to win.
Thank God for Kanye, by the way. He was the most electric part of this overly ceremonious ceremony, the only one who came close to giving it a water cooler moment, and he did so several times over. Yes, there was that winking callback to "I'ma let you finish," and his debut performance of "Only One" was the most engaging of the night's many, many ballads. He provided the most memorable exchange on the red carpet, too. What really stole the show, though, was "FourFiveSeconds," dual geniuses West and Paul McCartney playing a fine Dwyane Wade and Chris Bosh to Rihanna's LeBron. Their convergence of star power actually jolted me because it was the product of an actual creative chemistry, not one of those arranged marriages the Grammys seem to believe America can't get enough of. (See: Jessie J and Tom Jones.)
Never mind that neither Rihanna nor McCartney was nominated or even eligible or that West's "Bound 2″ wouldn't have cracked the telecast had it won for Best Rap-Sung Collaboration. Under the guises of lifetime achievement and novelty, the Grammys have frequently invited old musicians to perform old songs, asked young musicians to perform old songs, or invited old musicians to help young musicians perform the latest hits. That continued this year, mostly to the detriment of the space-time continuum. But 2015's broadcast also completely abandoned the idea that the nominees should provide the entertainment at an awards show, waving the likes of Madonna and Imagine Dragons on screen to promote their underperforming singles. On the plus side, that meant Iggy Azalea wasn't afforded the chance to traipse through yet another awards show performance of "Fancy." (She also went home with nothing — not even a cheese pizza! — though Eminem's win for Best Rap Album does little to quench last year's cultural appropriation firestorm.)
@PapaJohns I ordered a cheese pizza but instead I got tons of calls and messages like this one. pic.twitter.com/fgKhydivXb

— IGGY AZALEA (@IGGYAZALEA) February 8, 2015
Some would also applaud the exclusion of Meghan Trainor, another young white singer who got famous doing an edgeless impression of traditionally black music, but frankly this overly dour night could have used a bit of her spunk. Beyoncé, Ariana Grande, Usher, Eric Church, and Katy Perry are all capable of dazzling displays — surely you haven't forgotten the sharks already? — but they each chose to forfeit those powers in favor of forgettable austerity. Pharrell even managed to turn "Happy" into something sad, and don't get me started on Hozier. Meanwhile, where the hell were red-carpet all-stars Haim and Charli XCX? Where were Drake, Kendrick Lamar, Nicki Minaj, or any rappers doing actual rapping besides Common delivering a Civil Rights sermon alongside Grammy mascot John Legend? Big ups to the Grammys for taking on domestic violence and racial injustice — two of the past year's most troublingly prevalent crises — but a little gravity goes a long way. Why turn what should be a party into something so solemn?
Speaking of solemn, and of white upstarts mining classic black sounds: Sam Smith was the night's biggest winner, taking home three of the Big Four categories (Best New Artist, Song Of The Year, and Record Of The Year) plus Best Pop Vocal Album. If anyone seemed likely to deny Beyoncé her rightful victory, it was Smith, a conventional balladeer with a voice like a thunderstorm and the personality of a puddle. His blockbuster In The Lonely Hour loomed large this year, and his performance of "Stay With Me" alongside a politely restrained Mary J. Blige last night played like a coronation. Even though he couldn't quite sweep the major categories, he seems like a lock to be part of this broadcast for a very long time. (He also offered the evening's only memorable acceptance speech: "This is the best night of my life. Just a quick one: I want to thank the man who this record is about, who I fell in love with last year. Thank you so much for breaking my heart because you got me four Grammys.")
Aside from being openly gay, Smith is a staunch traditionalist, a Grammy stereotype made manifest, and his big night suggests that conservatism will continue to rule the Grammys for the foreseeable future. Yet there was also ample evidence that the face of musical conservatism is changing. The pre-telecast rewarded some of our generation's greatest talents with their first-ever Grammys, including Kendrick Lamar, St. Vincent, and Aphex Twin. There were also honors reserved for Pharrell, Weird Al, and Jack White. And although Beyoncé was denied her Album Of The Year victory lap, the internet's queen of cool did come away with a few trophies of her own. All those acts play well among critics and festival-goers; they're beloved brand names among the self-consciously hip. "Who is Beck" if not a patron saint of self-styled iconoclasts?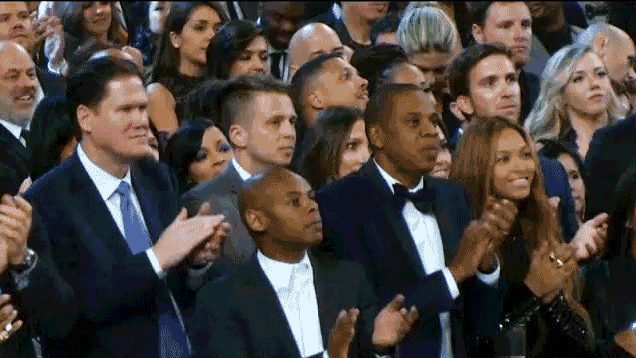 Yet despite Beck's legendary first decade, it's obvious why West was dismissive of Morning Phase's victory: That decade was a long time ago. Beck hasn't released a classic since Sea Change — 13 years ago! — and his newly minted Album Of The Year played more like a lesser sequel to that record than the Event we hoped it would be. To reward it over Beyoncé's critical and commercial juggernaut — a year-defining work that more than lived up to its Event status — was to substitute a whimper for a banger. As anyone who saw Beck's Coachella set last year can attest, he's well into a veteran comfort zone and far from the zeitgeist. The Grammys' embrace of an artist like Beck at this point in his career doesn't signify a shift in the ceremony's demographic so much as yesterday's hipsters aging into that demographic. Just look at the past six Album Of The Year winners: Beck, Daft Punk, Mumford & Sons, Adele, Arcade Fire, and Taylor Swift, aka the iTunes library of many people who like to scoff at the Grammys. It reads like a wave of fresh young artists compared to the old-timers the Grammys like to trot out, but in reality it's mostly the same old combination of pop megastars and legacy picks carrying the torch for fading genres. As The Oregonian's David Greenwald tweeted last night, "Grammys were out of touch giving AOTY to jazz and blues once. Now it's for rock." Last time Beck was up for Album Of The Year, for the cataclysmic funk pastiche Midnite Vultures, he lost to an inessential Steely Dan LP recorded several decades after their prime. Now he might as well be Steely Dan. If you can't beat 'em, settle into atrophy with 'em.